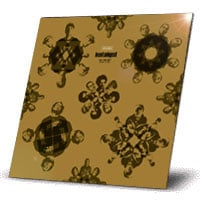 $

15.00 - On Sale
A1. All You've Got (album version) feat. RuC.L, Hau and Yungun
A2. I Know A Place. Cuts: Leeroy Brown
B1. All You've Got (Blue Guerilla remix) feat. RuC.L, Hau and Yungun
B2. All You've Got (Sinister Seven Mix) feat. Hau, Nfa, The Tongue, RuC.L, Sleeping Monk, Mr Clean and Xela.
INV12030 | Released 2007
KATALYST is Sydney based producer Ashley Anderson, one of Australia's most prolific producers. Over the past two decades Katalyst has risen to the top of the Australian hip hop and electronica scenes, receiving multiple ARIA and J Award nominations along the way. His reputation as one of Australia's best producers has seen him collaborate with the likes of Geoff Barrow of PORTISHEAD, GUILTY SIMPSON, DEAD PREZ, PHAT KAT, ALOE BLACC, J-LIVE, FINALE, FRANK N DANK, DIVERSE, UGLY DUCKLING and STEVE SPACEK (who together form SPACE INVADAS).